Bow Tie Pasta with Sausage and Sweet Peppers
This is an easy dinner the whole family will love!
A good trick for getting a picky toddler to eat his colorful peppers is to play a game!
Get him to eat all of the red ones in a certain amount of time and give him a treat every time he wins, continue with all of the veggies until they are all gone! A lot of the times kids just need positive reinforcement.
1 pound
Italian sausage, cut into 1/2 inch pieces
2
green bell peppers, chopped
1/4 teaspoon
ground black pepper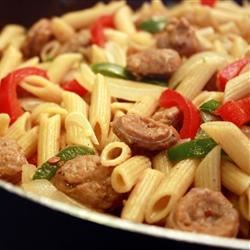 Bring a large pot of lightly salted water to a boil. Add pasta and cook for 8 to 10 minutes or until al dente; drain.
While pasta is cooking, cook sausage and peppers in large skillet over medium heat until sausage is brown and juices run clear. Drain sausage mixture and return it to the pan. Pour in the broth, season with black pepper and bring to a boil.
Toss pasta with sausage sauce and serve.